If you are planning an event- we can help.
Our event planning will be the ideal match for building your next special event or party into an unforgettable occasion. Our professional catering planners will provide catering services to ensure your events success. We can offer a variety of options for catering, venue selection, and so much more… With over 25 years in the events industry, we have been at countless special events and festivals. We are here to support your catering needs!
Corporate Catering~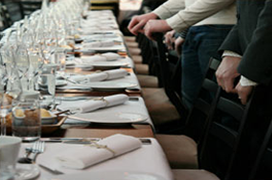 Whether you need appetizers or a full buffet for your next business event, Black Angus Catering can work within your budget and needs. Black Angus can customize to any request. Whether you are entertaining the board or the entire staff, Black Angus Catering will present your menu with flair. Get ourCorporate Menu...
Weddings
Wedding celebrations are one of our specialties. Black Angus has been creating events from small, intimate receptions to the most gala affairs. With Black Angus Catering, you can design a custom array of food that will make your wedding unforgettable. Whether you choose an appetizer, buffet, or pre-plated dinner, our experienced staff will perform flawlessly. With over twenty years of catering experience, Black Angus Catering is considered to be the best wedding caterer in Virginia Beach. You can rest assured that your wedding reception will be a delicious memory. Your wedding food will be artfully presented and professionally served. With Black Angus as your partner, your wedding reception will be a celebration to remember for a lifetime. Menus are to the left.
Picnics
Black Angus Catering offers everything you need to feed a crowd. Whether you need boxed lunches or an evening business buffet, Black Angus Catering should be the only Virginia Beach Business Lunch/Picnic Catering choice you make. Picnic Menu...